Everybody knows about the beautiful beaches and temples of Bali. Millions of people flock there every year, and the island is developing at an incredible speed.
Did you know, though, that there's a whole lot more to Indonesia—frequently referred to as the country of 1,000 islands—than just Bali?
And the beautiful thing for the tourist who wants to see it all is that the effort to promote the national Indonesian language has been enormously successful. The vast majority of Indonesians are perfectly bilingual in at least one local language as well as standard Indonesian.
So the visitor with Indonesian phrases for travelers under their belt gets to avoid the hassle of learning multiple local languages, and instead gets to experience the benefit of using the national language wherever they go.
And the benefits of knowing basic Indonesian travel phrases are many.
Table of Contents
1. What it's Like Speaking Indonesian in Indonesia
Before you learn travel phrases in Indonesian, there are a few things you should know.
Many language learners tend to complain that the locals switch to English instead of speaking their native language. Nobody wants that—it's embarrassing and makes you feel like you don't know anything at all.
It's true, though, that if you're in Jakarta or Denpasar and you approach someone in a Starbucks and speak broken Indonesian to them, they're probably going to use English with you just to save time and effort on your part. Can't blame them.
English ability is considered very trendy in Indonesia. Not only are a lot of people actively studying English at school, but popular culture in English is commonplace.
You may be wondering, then, why you should learn travel phrases in Indonesian at all! But hope isn't lost for the learner of Indonesian. Venture outside of a built-up area and you're likely to meet plenty of people who are far more comfortable speaking Indonesian than English.
Even in Bali, a quick motorbike ride outside the cities will bring you to small towns where you'll have to speak Indonesian to ask for directions or get a bite to eat.
And if you speak Indonesian confidently and competently, even fluent speakers of English are likely to continue in Indonesian with you from small topics to big ones.
In particular, if you can speak some Indonesian in touristy cities, you'll set yourself apart from the crowds of English-only visitors and bring a smile to some faces.
Now that you know a little background and context on the topic, let's get to our list of essential travel phrases in Indonesian!
2. Top Useful Travel Phrases to Get You All Around Indonesia
1- Greetings
Naturally, when you're going around Indonesia, you won't want to just barge into a conversation without starting it off politely.
The most common greetings in Indonesia are based on the time of day, or more accurately, the times between different calls to prayer (known as azan, which change very slightly month to month). However, they line up pretty nicely with English equivalents, and are some of the most useful Indonesian travel phrases (everyone's happier after a nice greeting!).
"Good morning!"
Selamat pagi!
"Good afternoon!"
Selamat siang!
"Good evening!"
Selamat sore!
"Good night!"
Selamat malam!
Once you've met someone multiple times, the selamat gets dropped, and just saying the time of day is adequate. You'll notice that the vowel sound usually gets stretched out for this.
"Good eveniiiiing!"
Soreeeee!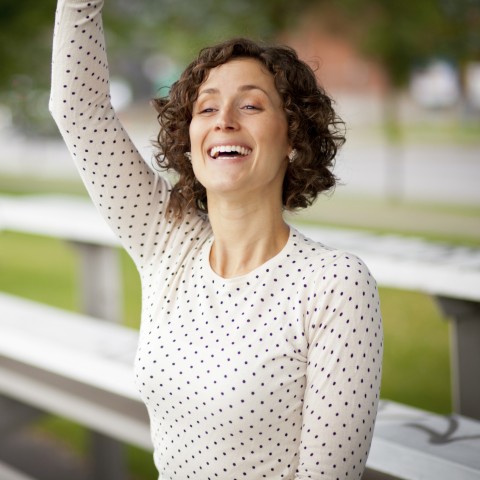 When you're just trying to get someone's attention, the greeting isn't necessary—just say "excuse me" and add the correct pronoun.
"Excuse me, sir…"
Permisi, Pak…
"Excuse me, ma'am…"
Permisi, Bu…
Pak and Bu are short forms of bapak and ibu, meaning "father" and "mother" respectively. The short forms are used as polite pronouns for people older than you.
If you and the other person are both young (or you're much older), then you should use mas for men and mbak for women.
"May I ask…"
Bolehkah saya tanya…
"Goodbye!"
Sampai jumpa!
2- Shopping
Indonesia is developing fast, and in any city you go to, you'll have a choice between shopping at smaller markets and shopping at enormous malls. Generally speaking, people working in malls have better English, but definitely don't count on it.
In any case, it's incredible how far you can get with just a few simple words.
"This one, please."
Yang ini.
"Thank you! Thanks!"
Terima kasih! Makasih!
"Thank you very much!"
Terima kasih banyak!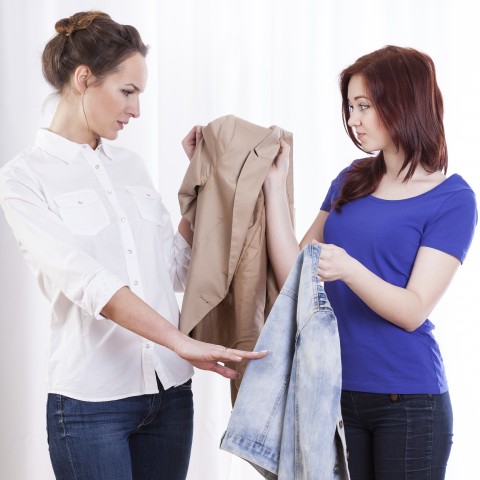 Seriously, the phrases and Indonesian words for travellers above are the bare bones of any commercial interaction. What if you want to expand a little bit on what you're trying to say?
"I really like this!"
Saya sangat suka yang ini.
"This is so beautiful!"
Ini cantik sekali!
"Do you have a bigger size? / Do you have a smaller size?"
Apakah Anda punya yang lebih besar? / Yang lebih kecil?
"I'm looking for jeans size 32/34."
Saya mau jeans dengan ukuran tiga puluh dua/tiga puluh empat.
"Can you make it any cheaper?"
Boleh sedikit lebih murah?
"Okay, I'll take it!"
Oke, saya ambil yang ini.
3- Dining Out
The same general advice about English ability applies to restaurants as well as other shops. The smaller and more out-of-the-way the place—and the older the person behind the counter—the less likely it is that they'll be able to speak English to you.
You may be glad to hear that lots of menus actually have English on them, even outside of tourist areas; this fits with English being a trendy language.
The simplest way to order is to simply point at the menu. Indonesians like to put pictures on their menus, so even locals are used to pointing. When you do so, say something like this:
"One of these, and two of these."
Ini satu, dan ini dua.
"Do you want it spicy? / Do you want peppers? / How many (peppers)?"
Mau pedas? / Pakai cabe? / Berapa?
I enjoy spicy food, but I strongly recommend that you try one or even "half" (setengah) before confidently saying that you want several peppers. The Indonesian peppers are something else!
The word pakai here is occasionally pronounced as paké, especially in Javanese-speaking areas. It literally means "to wear" and it's used when you're asking or answering a question about what you'd like included with your food. You'll often hear it with the yes-no tag question, like so:
"Add rice, right?"
Pakai nasi, nggak?
One of the biggest tests of your listening skills is the following question, usually delivered at breakneck speed on account of its frequency:
"For here or to go?"
Makan di sini atau dibungkus?
After you order, the most common thing is for the cashier to simply say the price, instead of saying, for example, "the price is…" beforehand.
"Twenty-three thousand."
Dua puluh tiga ribu.
Here's an all-purpose compliment you can use after your meal, practically guaranteed to win a smile:
"The food was excellent!"
Makanannya enak sekali!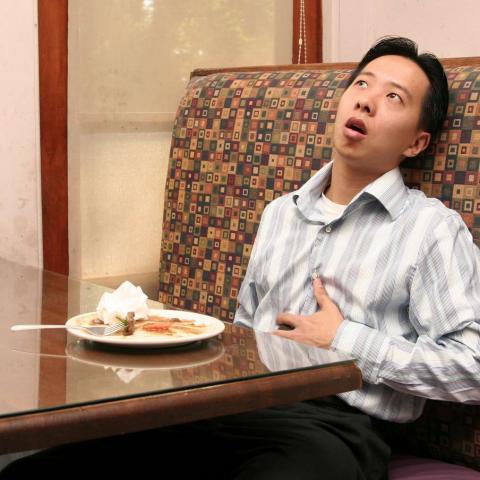 Suppose it wasn't so good, though? Lots of Indonesian food isn't far from what's normal in Western countries, but sometimes you may be offered a particular concoction of hot peppers and marinated eggs that you'd prefer to pass on. The polite way to decline is as follows:
"Maybe next time."
Mungkin lain kali.
Some people might also say Mungkin besok, where besok literally means "tomorrow." But it's important to know that Indonesians more often than not use it to mean "any time in the future." This is also true of its counterpart kemarin meaning "yesterday."
"The restaurant that we went to yesterday (or before) was better!"
Resto yang kita pergi kemarin lebih bagus!
4- Transportation
Taxis are becoming less and less common in Indonesia as more and more people use ride-sharing apps.
Instead of Uber, the two main ride apps are called Grab (a Singaporean company) and Go-Jek (a homegrown Indonesian venture). Both offer car rides as well as much cheaper and faster motorbike rides.
Foreigners can easily download these apps and simply pay with cash instead of using an e-wallet.
However, you may not be comfortable ordering a ride by yourself with a new app and having to communicate with the driver. In that case, simply ask someone nearby to order one for you on their phone. Better do this politely!
"Can you help me order a Grab/Go-Jek?"
Bolehkah Anda membantu saya memesan Grab/Go-Jek?

The word Grab is written the same as its English counterpart, but pronounced gréb.

"I want to go to the Hotel Omah."
Saya mau ke Hotel Omah.
If you're going back to a place you know well, but your driver does not, then you'll have to direct them a little bit.
"Turn left here, then make a U-Turn."
Di sini belok kiri, terus putar balik.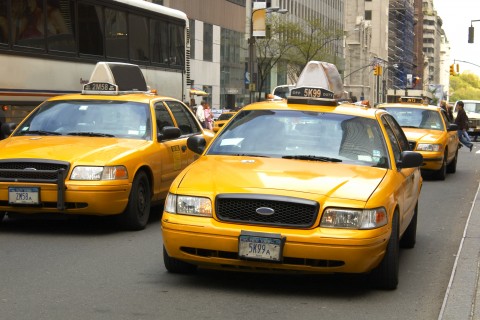 There's a great line dance song, actually, which is perfect for memorizing kiri (left) and kanan (right). It'll stay in your head for a loooong time!
Public transit is, unfortunately, not as developed as the rideshare economy. Many bus stops are poorly marked, and it can be quite uncomfortable to wait in a bus while an endless stream of motorbikes cuts your driver off.
But they sure are cheap! Long-distance bus rides can take advantage of the new highways that are frequently being opened across Java, cutting transit time to big cities to a fraction of what it used to be.
"Does this bus go to…?"
Apakah bis ini pergi ke …?
"Where can I buy a ticket?"
Di mana bisa beli tiket?
"I want two tickets to … please."
Saya mau dua tiket ke …
Remember to include a "thanks" (makasih) after even little transactions like this one!
5- Emergencies
Indonesian cities usually have a "police station" (kantor polisi) in every district, as well as police boxes on major intersections. Officers don't tend to patrol, though speed traps are pretty common. "Private security" (satpam) is pretty common, and they may be able to help you contact authorities in times of need.
"Where is the police station?"
Di mana kantor polisi?
"I have to call the police."
Saya harus menelepon polisi.
Each medium-sized city will have a number of "hospitals" (rumah sakit) and "clinics" (klinik), and usually at least one "International" hospital, which generally has some English-speaking staff or translators. Don't count on this in smaller cities, though.
"I've got to get to the hospital!"
Saya harus ke rumah sakit!
At "pharmacies" (apotek) you can describe your symptoms and get "over-the-counter medicine" (obat), no problem. The most important word is sakit which means "pain," or "painful."
"My head hurts."
Saya sakit kepala.
"Do you have medicine for a sore throat?"
Ada obat untuk sakit tenggorokan?
In the case of asking for things in a shop, you wouldn't use the construction apakah Anda punya or "do you have," but instead the construction ada…? which means "is there…?"
6- Compliments
Why are you in Indonesia, why are you learning Indonesian, and how come you speak it so well?
You're definitely going to get questions like these. Fortunately, you can use the same stock answers every time and nobody will ever know—plus, you'll get so good at delivering them that people will be more and more impressed!
"I really like Indonesian food."
Saya sangat suka makanan Indonesia.
"I'm interested in the culture of Indonesia/Southeast Asia."
Saya tertarik dengan budaya Indonesia/Asia Tenggara.
Remember that, in Indonesian, you're interested "with" something instead of interested "in," as in English. What would interest you so much that you'd want to learn the language?
"I like learning languages."
Saya suka belajar bahasa-bahasa.
"Indonesian is very beautiful!"
Bahasa Indonesia indah sekali!
To be honest, compared to other Asian languages, Indonesian isn't particularly difficult to pick up the basics in.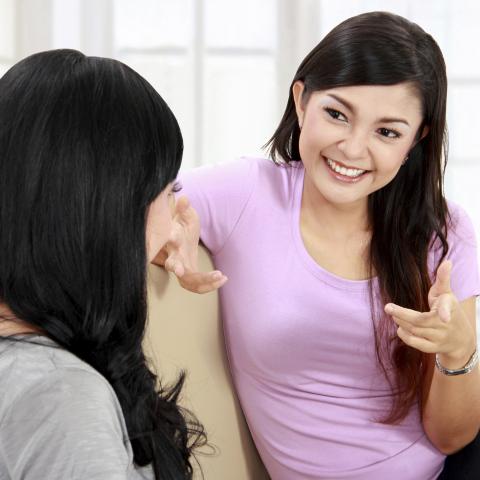 For that reason, locals don't tend to lavish praise on foreigners who can speak it. Instead, the foreigner with some linguistic ability will often hear this phrase:
"Have you been in Indonesia long?"
Sudah lama di Indonesia?
To which you can answer:
"No, only a few weeks."
Tidak, hanya beberapa minggu.
3. Conclusion: How IndonesianPod101 Can Help You Learn More Indonesian
And for those few weeks, it's amazing what you can end up learning to say in Indonesian!
Do you feel more prepared to travel in Indonesia with these Indonesian travel phrases? Or are there still some you're struggling with? Let us know in the comments!
Why stop here with these simple phrases? You'll absolutely be welcomed if you stop at a little warung or "small restaurant" and ask about the food—particularly if you tell them it's delicious.
There are plenty of foreigners who have lived in Indonesia for a long time, and just slowly picked up the language without the need for much study.
Of course, if you're into puzzles, learning the nuances of the prefixes and suffixes hinted at in this article is a challenge for anyone.
All that goes to show that travel phrases are really just the tip of the iceberg when it comes to language knowledge.
There's no time like the present to dive deeper, especially if you commit to a reliable and engaging language-learning program such as IndonesianPod101.
Author: Yassir Sahnoun is a HubSpot certified content strategist, copywriter, and polyglot who works with language learning companies. He helps companies attract sales using content strategy, copywriting, blogging, email marketing & more.